Bibinje is a small touristic town just 10 minutes from the center of Zadar.
Although connected to busy and crowded Zadar, Bibinje has a different vibe, more easy-going vibe than Zadar.
With more than 4 kilometers of Adriatic coast, Bibinje can offer great swimming spots.
You either fall in love with this small town or you don't. There is no between. The hospitality, openness, benevolence, timeless readiness for a party in a Dalmatian way, directness, commitment, and loyalty make only a part of the character of people from Bibinje.
One of the biggest Marine on the Mediterrane, D-Marine is located in Bibinje as well. Beautiful beach, deck chairs, and beach club are at your disposal.
Because it is such a short bike ride from Zadar (around 30 minutes) we recommend you to visit it by Bike.
If you are already in Bibinje, then we have great news for you. Our location is also in Bibinje. If you rent a bike with us we can deliver it to Bibinje usually within 10 minutes. You can also pick it up in person at our location Put Mira 18, Bibinje.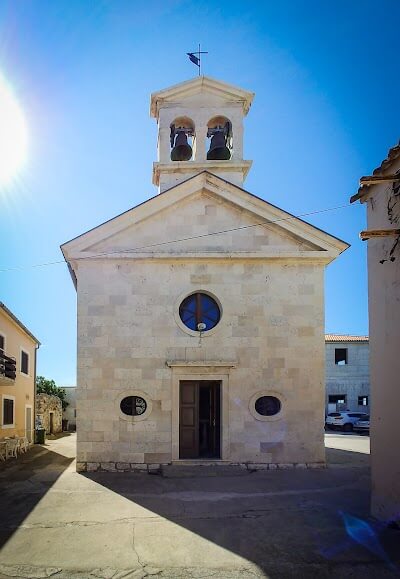 The Church of Saint Roch
The curch of Saint John the Baptist
Church of the Martyrdom of St. John the Baptist
The Church of Saint Roch is a symbol and the heart of Bibinje, its main feature is a stone bell tower with two bells facing west. The interior is featured by typical baroque marble altars. The church was first mentioned in 1673 when it was rebuilt after the Great Turkish Attack. The oldest preserved altar dates from 1680 and was being maintained until the Second World War, today only some of the fragments remained. Today's main altar is the work of master Michiel Coste, built-in 1768.
More about  Bibinje Cultural Heritage can be found here
The church is located in the center of the Bibinje peninsula, in the heart of the old historic town. Ambient fits the folk architecture. The base of the bell tower is built a stone slab, a part of some tombstone because there was a cemetery around the church. The exact time of its construction is not known, but it is believed that the Brotherhood of Saint John the Baptist was founded in 1442. The inventory of the church of St. John today includes a wooden carved altar of the Baroque style, which is also the main altar of the 17th century, is a homemade rustic work. This church is a valuable cultural monument of the culture of Bibinje, and also the first church of Bibinje while being the first source of Christianity in the village. The church has a collection of sacred objects from the 15th century as well
Church of the Martyrdom of St. John the Baptist is a single-nave Romanesque church with a semi-circular apse. It is very small in dimensions. It is located in the south of Bibinje, on the cape called Punta. The Church of Saint John and surrounding properties were owned by the Benedictines of Saint John from Biograd or so named Rogovska Abbey, moved to Čokovac in the 12th century.
Beach Punta Rožica
Beach Lipauska
Beach Punta
Beach Laguna
The main beach in Bibinje is located in the Old Village. It is a pebble, with concrete sunbeds. Equipped with showers and changing cabins. Our location is just 100 meters away from this beach, You will find me here if I am not delivering the bikes 🙂 
Find out more about Bibinje at official Tourist office page visitbibinje
This beach is located at the "beginning" of Bibinje when you are coming from the Zadar side. So if you are cycling from Zadar this one will be the first one you need to visit. The beauty of Bibinje attracts many visitors as well as locals by its sandy bottom. It also has a few bars and natural shade. Perfect for children. 
Beach Punta Is located at the eastern end of Bibinje next to D-Marine. The beach is pebbly, there is a restaurant and a café nearby as well as playgrounds for beach volleyball hosting volleyball tournaments, which attract large numbers of viewers. Keep in mind you need to pay a parking fee if you are coming in a car. One reason more to rent a bike in Bibinje 🙂
Beach Laguna is located inside of D-Marine and it is one of the best beaches in this area. It is huge, with a pebble bottom, and a beach bar/restaurant in the middle. There is a volleyball field, a children's park with toys, and sun decks for rent. The whole D-Marine is paid parking zone. The best advice I can get to you is to go there on a bike.  Money you are saving on parking can be spent on Ice creams 🙂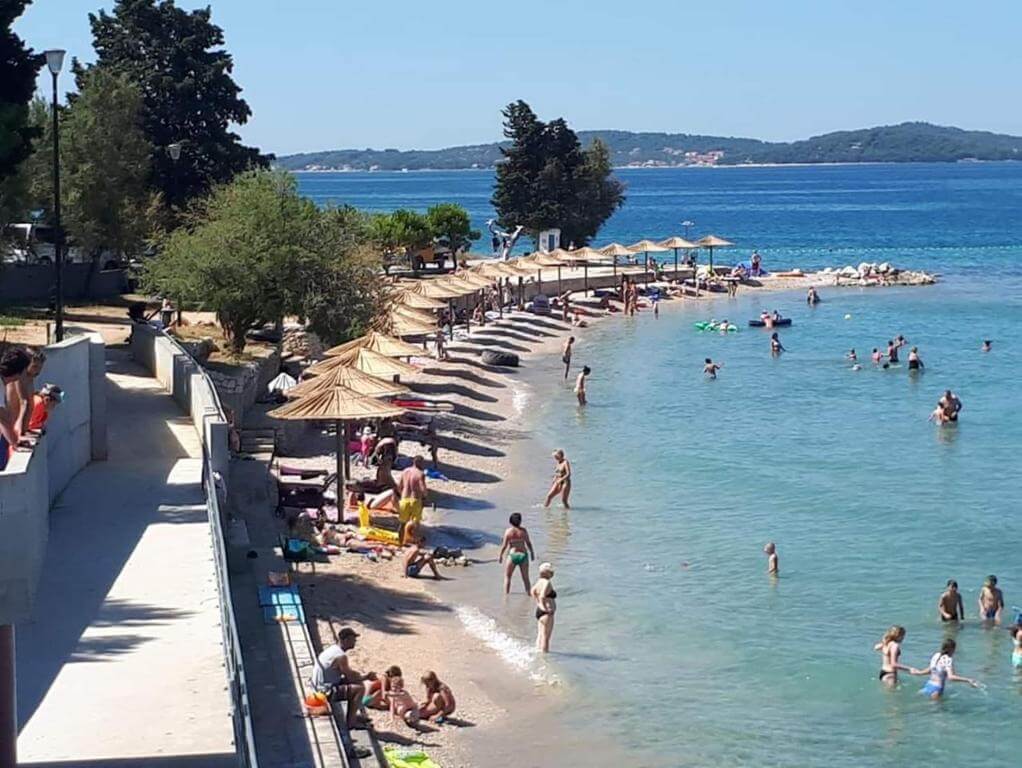 This is my recommendation for anyone who arrives in Bibinje or wants to rent a bike in Bibinje. Something you can't find in any tourist guide and I think it's very interesting and important. 
"Križ" hill is part of the municipality of Bibinje. It was an important strategic point during Serbia. Croatia war than to his height of around 55 meters above sea level. 
It was basically the first war line and the spot from where Zadar was destroyed. 
But, the most interesting thing is you can still see remains of the war. Two original T-55 tanks are still there, at the same place where they were destroyed almost 30 years ago. 
It's a must-see place in Bibinje. 
Keep in mind you are going uphill for the most part of the route, so prepare yourself in advance. 
You can see more about this route on our bike routes page
Ready to rent a bike in Bibinje? We are one click away. 
Reserve your bike in 30 seconds get it in 30 minutes. 
What our customers are saying
"Bike rent Bibinje-Zadar was geweldig. Het heeft de fietsen netjes en goed onderhouden geleverd. Het waren mooie sportieve fietsen en we hebben er een flink stuk mee gefietst. De inlevertijd en ophaaltijd zijn zeer flexibel. Kortom, Bike rent Bibinje-Zadar is een aanrader."











—

Dominic Van Der Waard
"We rented two bikes for three days and I would recommend this bike service to everyone who wants to rent a bike in Zadar! It made our Zadar experience a lot better. It is awesome that you get the bikes delivered and picked up. It was easy, cheap and Dominik was really nice and helpful."
"Top bikes Top prices Top service We can only recommend it If you want to explore the areas rent a bike.."
"Great bikes and a really nice guy who rents them! Perfect even for bumpy or gravel roads."
"Toller, flexibler und vor allem super schneller Kontakt! Wir haben 2 mal Fahrräder gemietet und konnten uns jeweils aussuchen, ob wir in Kuna oder Euro bezahlen wollen. Wir waren immer überrascht, wie schnell Dominik da sein konnte und wurden sehr gut von ihm beraten (auch z.b. über Covid-Testzentren in der Nähe)."
"If You want hire bikes or e-scooters this is the place! Really good service. The owner brings And picks up the bikes everywhere You want And responds really fast. The price is the cheapest You Can get in Zadar with the best service!"
"Thank you for sevices. It was excellent. Anytine we had some question, we got an answer. We got bikes in our hotel and also pick up."
Zadar is a city that's ideal for exploring on foot. The Old Town is very...
Still have a Question? Contact us