Sukošan is a small town situated in a wide bay called Golden Harbour, on a coastal Adriatic road 7 km southeast of Zadar. The economy is based on tourism, farming, vineyard farming, olive, and fruit growing. Today, the place is the seat of the county which also includes Debeljak, Glavica, and Gorica. The town has about 3,000 residents. There is a kindergarten, an elementary school with equipped sports hall, medical and dental practices, and everything else that makes this place very pleasant/enjoyable to live throughout the year. It is recognized by many as the ideal place for a vacation.
Zadar-bike is delivering bikes in Sukošan, Debeljak, Glavica, and Gorica. We are partners with a lot of private accommodation owners in Sukošan.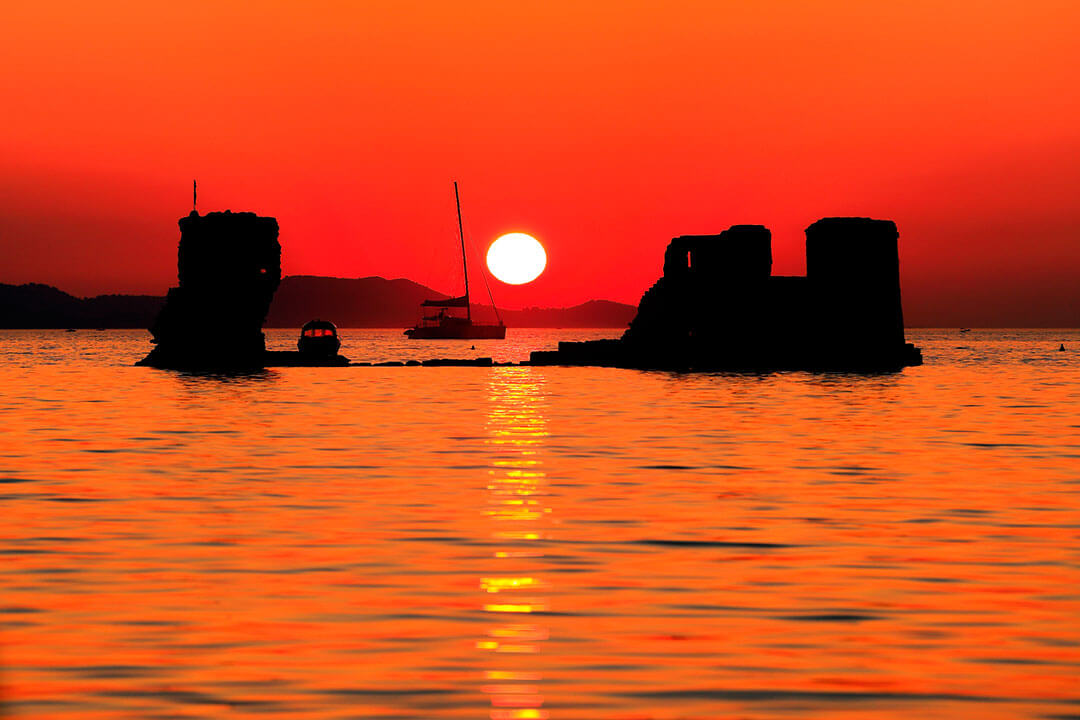 PALAC – ARCHDIOCESAN MANSION
CHURCH OF ST CASSIAN
THE UPPER GATE
The beauty of Sukošan's bay is best reflected by the summer palace of the archbishops of Zadar – Palac, built on an islet in the bay by the end of the 15th century. The humble ruins of the church are all that is left today of its grandiosity. The church was built under the direction of the archbishop of Zadar, Matheo Valaresso.
Today it is the symbol of our place and our trademark. It is an especially beautiful sight to see it in the sunset. Unfortunately, you can't reach it by bike but you can definitely swim to it during the summer months. 
More about  Sukošan Cultural Heritage can be found here
Church of St Cassian's parish church is located in the old village. Today it is a beautiful stone building with Romanesque and baroque details, which is built according to the form of the XVII. century, but to many historians, it became more modest even before the first written monument( 1289.g. ). This is supported by the assumption that the name is derived from the name of the San Cassian. Today's appearance received in the year 1642 to be read over the northwest gate, over which is representative of the pediment of the altar wall - the most representative in our medieval art - originated probably in the middle of the 11th century or earlier. The church gave in 1674 parish priest Don Sime Veleslavić, native and Glagolitic, which is evidenced by the solemn Glagolitic inscription in the sacristy.
The church has a single nave from the sanctuary, a sacristy, and five marble altars. The main altar with a tabernacle shows the Madonna with St. Cassian, St. Jerome, and St. Sime. The marble statues of St. Cassian and St. Jerome are the work of Leone Bertinelli. By the side of the altar, above the sacristy door, there are niches with wooden statues of St. Cassian and St. Joseph. The sidewalls of the church belong to the altar of St. Peter and Paul with pale respective saints; the altar of St. Cyril and Methodius with pale; Sacred Heart with a wooden statue; Our Lady of Lourdes with a wooden statue as also as St. Anthony and St. Nicholas.
This used to be the entry, for example, the exit of the fortified Sukošan and these are also the visible ruins of the protective walls that the place was surrounded with built by the Venetian authorities in 1468-1470 with the purpose of protecting the place and the people.
"DJEČJI RAJ"(CHILDRENS' PARADISE)
Beach Zlatna Luka
Beach Makarska
Due to its shallow waters and sandy bottom, Children's Paradise is ideal for children and all those who know how to enjoy swimming with different games in the sea. Picigin is a hit; here, you can rent beach chairs, pedal boats, and refresh yourself with ice cream or a drink at one of the cafes. Beaches are equipped with showers, changing cabins, and toilets. The coast is partially paved with stone and mostly covered with pebbles.
Find out more about Sukošan at the official Tourist office page of Sukošan
Zlatna Luka beach is located near the southern entrance to Sukosan. The beach is covered with pebbles and tamarisk, and pine trees provide natural shade during the summer heat. There are showers, changing rooms, and chemical toilets on the beach. Nearby you can enjoy a game of beach volleyball after a day of swimming.
Makarska beach is well equipped. The beach is equipped with showers and changing cubicles, and chemical toilets. The beach is paved and partly covered with pebbles—there are plenty of natural areas shaded by tamarisk trees. There is also a playground for volleyball, a basketball court, and a bocce near the beach.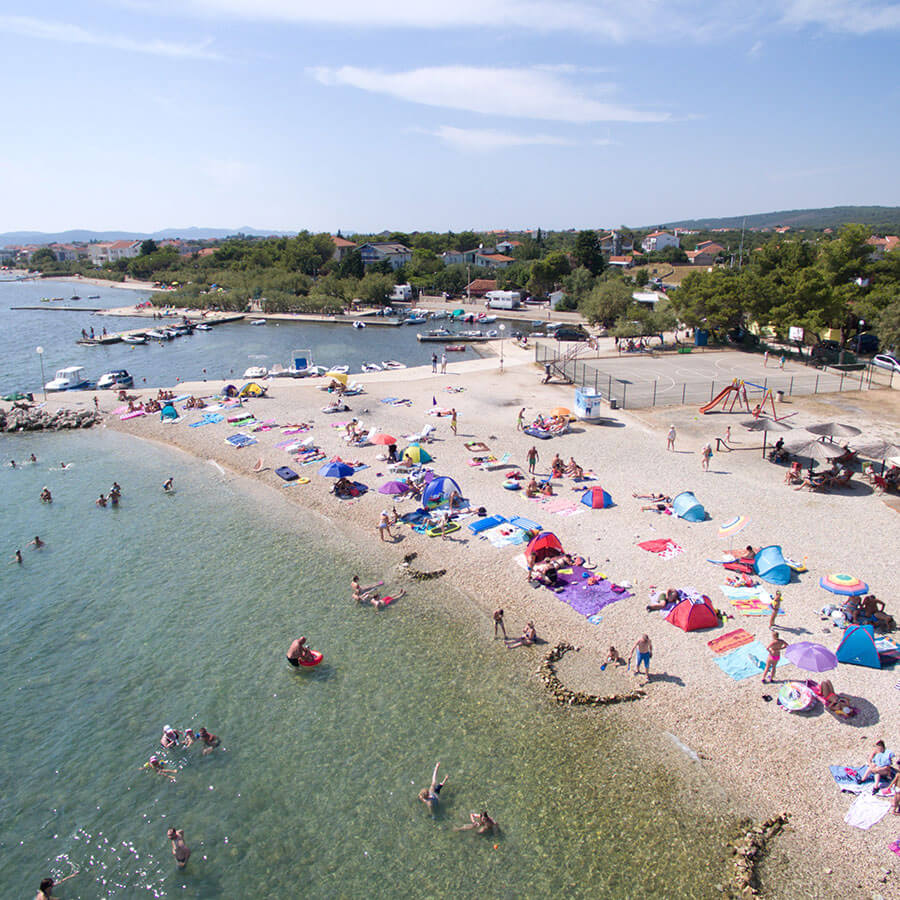 Sukošan 1 MTB Trail
Sukošan 2 MTB trail
Sukošan 3 MTB trail
This trail, with a panoramic view of Sukošan, is intended primarily for MTB riders of moderate physical condition and basic technical skills. It starts from Sukošan, situated in a bay which due to its sheltered position is called Zlatna luka (Golden bay). After the warm-up along the coast, a more demanding ascent follows. Over the Tustica hill, the trail takes you through local sites and gives insight into everyday life and the feel of the Dalmatian hinterland. Dynamic changes in terrain lead back above Zlatna luka and down to its embrace.
Type: MTB trail
Difficulty: Moderate
Distance: 39.2. km
Duration: 2.35 hr
Highest point: 155m
Keep in mind we can deliver the bikes to your apartment door in Sukošan or even at a starting point of this trail. 
If you are an MTB rider of medium fitness and technical skills and want to experience Biograd hinterland with beautiful panoramic views of "Golden" Bay of Sukošan, then we definitely recommend you to try out this trail. After a somewhat demanding ascent right upon the start, a dynamic interchange of terrain and vegetation will follow – from typical Mediterranean low plants to pine woods, vineyards, pastures, and orchards. You will experience riding on long macadam roads and some technically demanding parts as well.
Type: MTB Trail
Difficulty: Moderate
Distance: 32 km
Duration: 2.59 h
Highest Point: 137 m
From Sukošan, a small town situated in a wide bay with marina Dalmacija, the trail starts with a mild ascent towards its hinterland. Although not very hard, this trail requires moderate technical skills because of the interesting configuration of the terrain which is visible right from the start. It continues with a combination of macadam and old roads through villages, olive groves, and vineyards of Biograd hinterland. Before the finish, there is a more demanding descent and panoramic view of Sukošan riviera.
Type: MTB Trail
Difficulty: Moderate
Distance: 26.1 km
Duration: 2.18 h
Highest Point: 139 m
Ready to rent a bike in Sukošan? We are one click away. 
Reserve your bike in 30 seconds get it in 30 minutes. 
What our customers are saying
"Bike rent Bibinje-Zadar was geweldig. Het heeft de fietsen netjes en goed onderhouden geleverd. Het waren mooie sportieve fietsen en we hebben er een flink stuk mee gefietst. De inlevertijd en ophaaltijd zijn zeer flexibel. Kortom, Bike rent Bibinje-Zadar is een aanrader."











—

Dominic Van Der Waard
"We rented two bikes for three days and I would recommend this bike service to everyone who wants to rent a bike in Zadar! It made our Zadar experience a lot better. It is awesome that you get the bikes delivered and picked up. It was easy, cheap and Dominik was really nice and helpful."
"Top bikes Top prices Top service We can only recommend it If you want to explore the areas rent a bike.."
"Great bikes and a really nice guy who rents them! Perfect even for bumpy or gravel roads."
"Toller, flexibler und vor allem super schneller Kontakt! Wir haben 2 mal Fahrräder gemietet und konnten uns jeweils aussuchen, ob wir in Kuna oder Euro bezahlen wollen. Wir waren immer überrascht, wie schnell Dominik da sein konnte und wurden sehr gut von ihm beraten (auch z.b. über Covid-Testzentren in der Nähe)."
"If You want hire bikes or e-scooters this is the place! Really good service. The owner brings And picks up the bikes everywhere You want And responds really fast. The price is the cheapest You Can get in Zadar with the best service!"
"Thank you for sevices. It was excellent. Anytine we had some question, we got an answer. We got bikes in our hotel and also pick up."
Zadar is a city that's ideal for exploring on foot. The Old Town is very...
Still have a Question? Contact us