Zadar is a city with lots of good restaurants. It's not surprising since the city attracts lots of tourists and people from the surrounding, so there is no shortage of customers.
We all know how hard it is to pick the right restaurant, especially if you are in a hurry. There are so many things to consider such as:
– Price range (don't wanna overspend)
– Distance (don't want to walk too far)
– Type of food (don't want to try something you don't like)
– Is there parking? (because you know… Zadar)
I want to guide you through Zadar restaurants and their offer in this blog post. I intend to give you a quick summary of each restaurant without picking the best one. Since I can't cover all of them, I decided to cover the five I can recommend from my own experience. 

The "Pet bunara dine & wine "" restaurant is located alongside the square bearing that same name. It has been the enriching and refining element of the Zadar gastronomic scene for more than 35 years.
The restaurant's slogan "Pet bunara dine & wine "" speaks for itself, it has always been about two things – great food and fine wines. The secret of its success lies in the simple fact that it never tried to follow trends or fads, it always stayed true to itself and its philosophy, thus becoming a hallmark of Zadar gastronomy and one of the rare restaurants that earns its place through hard work.
For over three decades now, high-quality ingredients have been served with care and attention to detail. The chefs have always strived to offer a unique blend of local cuisine with Mediterranean accents in over 60 main dishes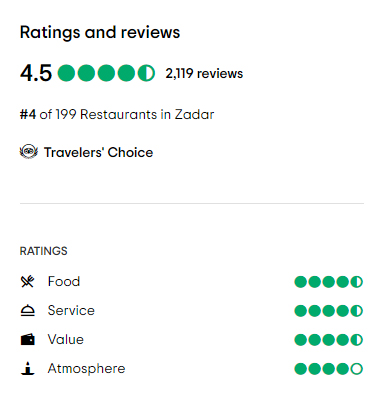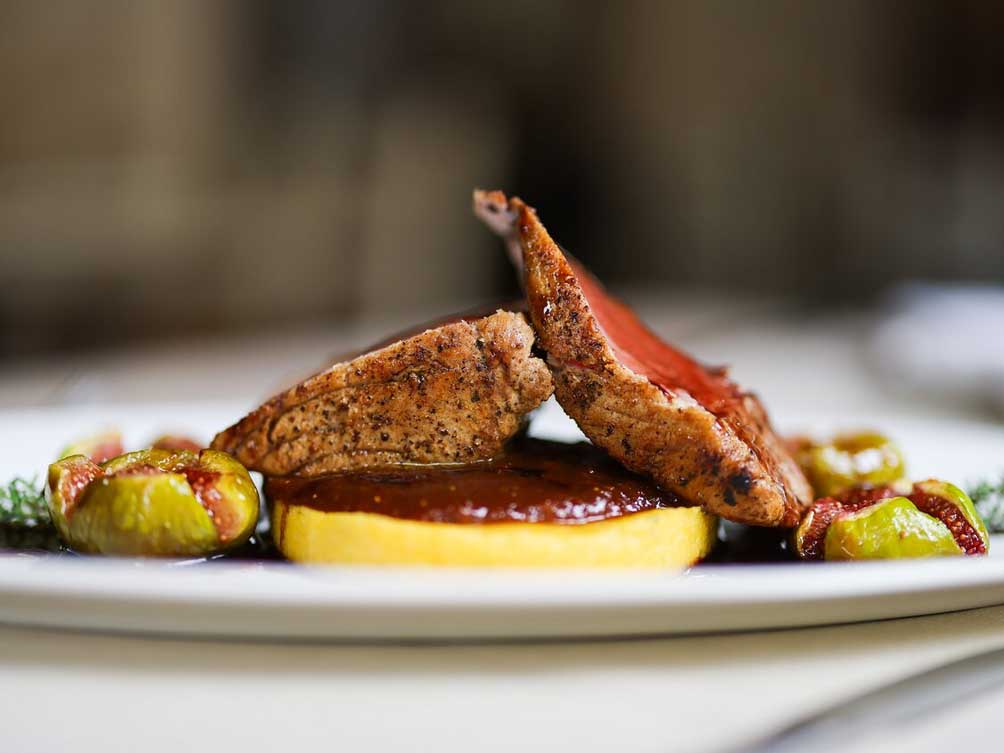 Another restaurant located inside of the city walls. Proto Food and More (Sea) is a modern restaurant in Zadar, represents a perfect combination of traditional and contemporary cuisine.
The restaurant is located in the very heart of Zadar and is renowned for its extraordinary local wines and delicious dishes prepared from fresh ingredients.
The interior design combines traditional elements with modern ones – wooden furniture, brick walls, warm lighting, rich colors, and beautiful decorative features create a cozy atmosphere in which you can taste some of the best delicacies in Dalmatia.
The menu includes various dishes from the local cuisine – fried calamari, grilled fish, octopus stew, and many others.
This is a great place to take your loved ones out for dinner or to relax with friends after a busy day.

Restaurant Bruschetta is a modern, Italian-style restaurant in the heart of Dalmatia, located in the beautiful city of Zadar. Restaurant Bruschetta is considered one of the best restaurants in Zadar and it has won numerous awards for its superb cuisine and excellent service.
The design of this restaurant is a mix between casual eating and fine dining. This gives you a cool vibe that makes it great for a date night or even for families.
This restaurant offers a unique experience with excellent food and wine in an atmosphere that will make you feel right at home.
Restaurant Bruschetta offers a wide variety of delicious dishes including pasta, seafood, salads, sandwiches and more. They also offer an extensive wine list with over 100 varieties of reds, whites and sparkling wines from around the world.
The most popular dishes are their grilled prawns, fish selections, and mussels. Their homemade desserts are definitely worth trying out if you're looking for something sweet after your meal. The price of meals at Bruschetta is quite affordable compared to other restaurants in Zadar, so it should fit into most budgets.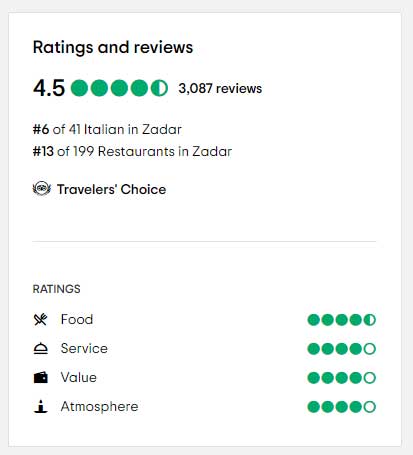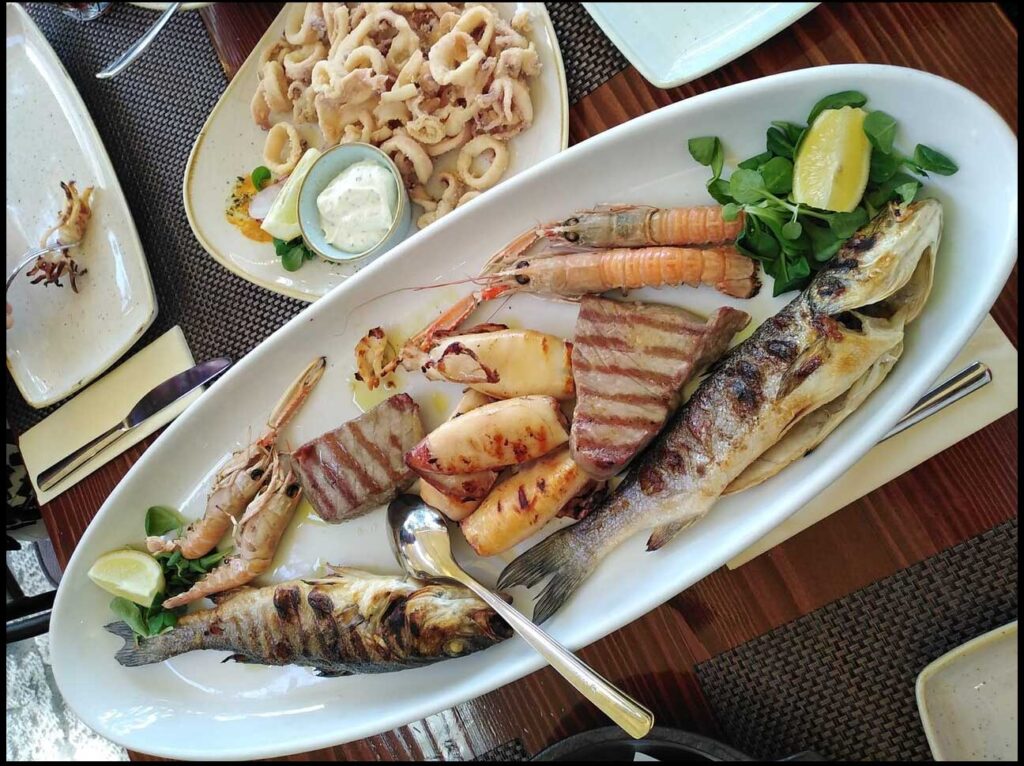 2Ribara restaurant in Zadar is located at Ulica Blazha Jurjeva 1, Zadar. It serves a wide range of Croatian cuisine dishes and international ones such as Italian pasta and pizzas . This restaurant is famous for its seafood platters with fresh fish on display for customers before making their choice from the menu which includes many options including grilled meats and salads too! The interior design features wooden tables covered by white tablecloths so you don't need any fancy clothes while enjoying your meal here either.
The main reason why you should visit this restaurant is that their menu has fresh local fish, seafood and meat from the region of Lika-Senj County, Pag Island, Velebit Mountain and Dalmatia. In addition to these dishes, there is also a wide selection of wines from Croatia's most famous winemakers as well as some foreign labels for those who prefer excellent international wines. This restaurant was awarded by many prestigious awards such as TripAdvisor Certificate of Excellence Award 2018.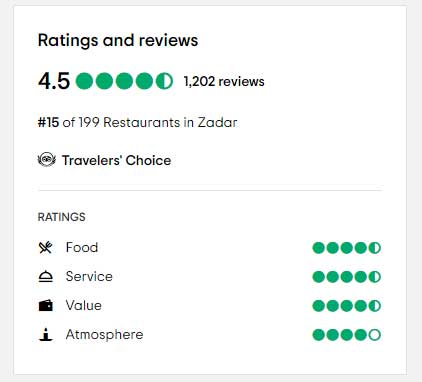 Restaurant Harbor is located at Obala Kneza Branimira 6, Zadar. The Waterfront location overlooking the Old City Gate and bridge are just some of the reasons why this restaurant is one of the favorites for eating out in Zadar. Gorgeous sunset views can be seen from the restaurant's terrace, where a calm atmosphere and delicious meals create an ideal scene for romantic dinners or family gatherings.
The restaurant's menu offers fresh seafood and meat specialties, as well as many Dalmatian dishes prepared with exceptional care and skill by experienced chefs. The efficiency of their staff allows customers to choose between various types of fish and even decide how they want it prepared on the spot. The prices are in line with other restaurants in Zadar offering fresh seafood and meat specialties, but the view makes the visit to Harbor more than worth it.