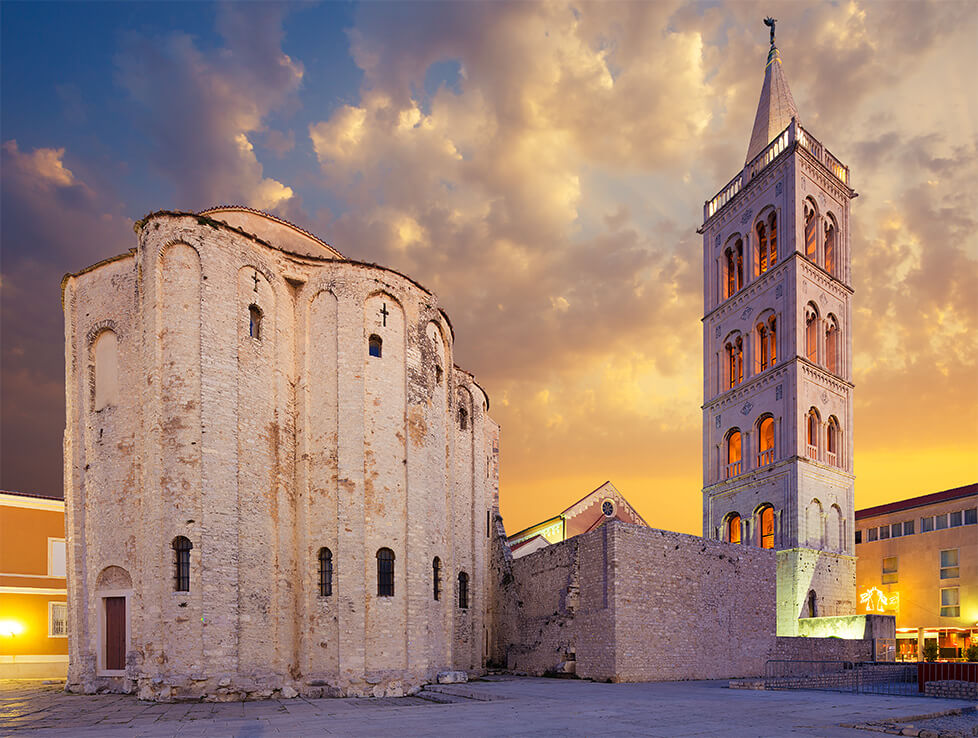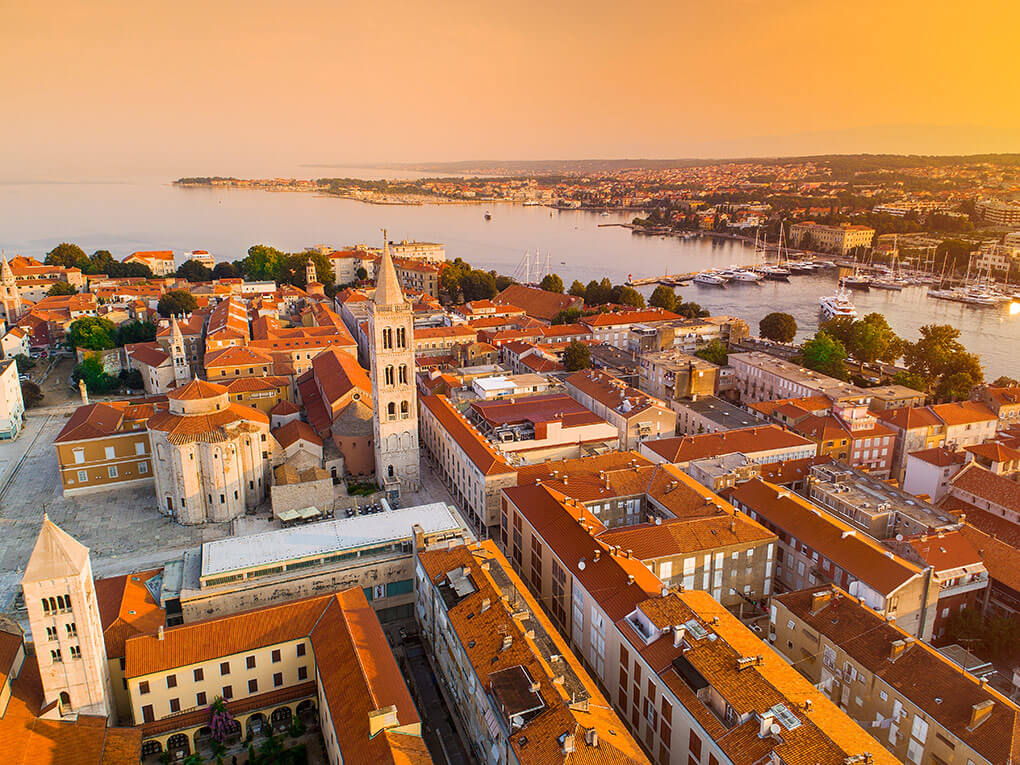 In this article, we are trying to answer the question What is the best hotel to stay in Zadar? But before even trying to do that we need to tell you a little bit more about Zadar. Zadar has a rich history of more than 3000 years. It is known for its beautiful beaches, amazing scenery and very friendly people.
About Zadar
Zadar is one of the most popular destinations in Croatia and the whole of the Mediterranean.
But there are still plenty of places where the best parts of Croatia have not been spoiled by tourism. It's a real gem.
Thanks to the great location it serves as a great starting point for going around. Whether you want to visit Plitvice Lakes, Krka Waterfalls, Split, or Šibenik. National park the Kornati is 30-40 minutes by boat.
What is it that makes Zadar so special?
Zadar is a remarkable city for a number of reasons. It has the most amazing sea organ and sun salutation. It has wonderful architecture, great food, and fantastic history. And it's situated in a perfect position to access some of the best islands in Croatia.
But for me, the answer is simple: the people and their history. Zadar has a rich cultural heritage and a diverse population that makes it an ideal destination for anyone who wants to experience the best that Croatia has to offer.
We can't forget two modern installations Zadar is known by:
Greeting to the sun
Take a look at the city from the most beautiful viewpoint – the top of the church of St. Donatus! Here you can also see the unique monument "Greeting to the sun" made by Nikola Bašić. It consists of 300 multi-layer glass plates placed on the same level with the stone-paved waterfront. During the day, it serves as a solar battery that collects energy in itself, which later produces a light show at night.
Sea organ
Few cities in Croatia offer such a panoramic view as Zadar! The best way to enjoy it is while listening to some music made by waves – yes, you've read right! This unique architectural wonder is called "sea organ" and it was created by Nikola Bašić in 2005. It consists of 35 pipes located under a set of large marble steps leading into the sea. When you walk along this waterfront, you will hear how sound is being generated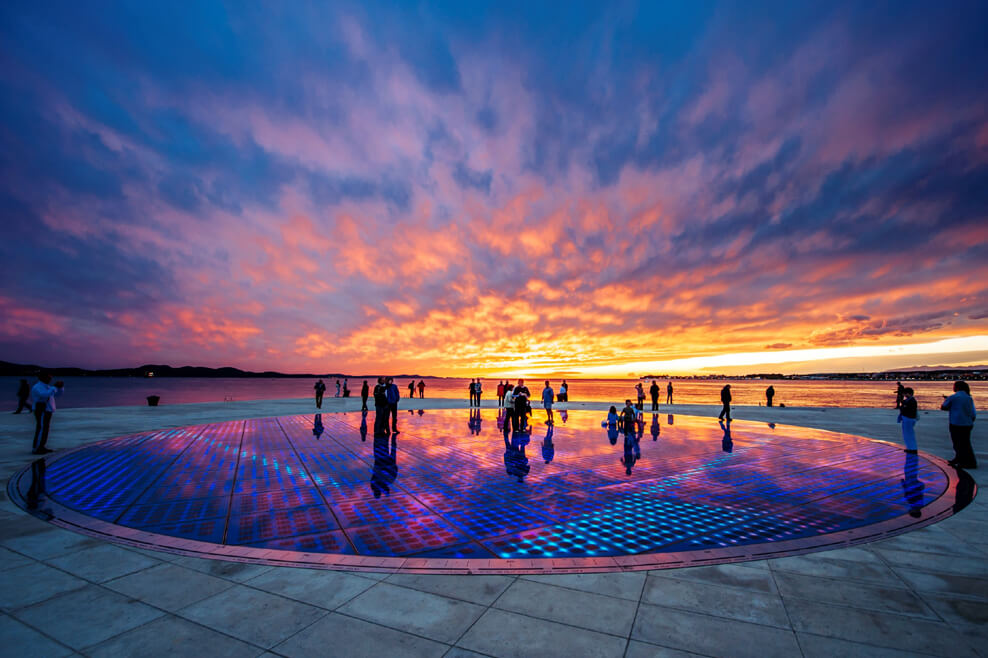 Best time to stay in Zadar?
Zadar is getting more and more popular among travelers around the world. As soon as you come, you will be surprised by how small Zadar is. Surrounded by defensive walls, Zadar's old town is the place to be.
But that means Zadar is crowded in the main season. Thousands of guests packed inside old historical walls (Bedemi) and narrow streets.
My advice is to avoid July and August in Zadar.
Zadar is beautiful in June and September as well. My favorite month to visit Zadar is May.
Nice weather is almost guaranteed low prices and few tourists here and there. May is perfect for experiencing the true spirit of Dalmatia.
Best hotels to stay in Zadar – Our top 3
Although very popular, Zadar doesn't have a lot of hotels. So most of the accommodation here is private apartments and villas. But that is changing. There are a few new boutique hotels inside city walls that you should definitely visit.
I made this list of the three best hotels to stay in Zadar to help you experience more. So, my list doesn't contain generic hotels you can find everywhere else. My idea was to review those that have a spirit of Zadar woven in them.
Bastion hotel in Zadar is a popular choice with tourists looking for a place to stay that is both comfortable and luxurious. A 15th century fortified castle on the eastern side of the city's old town, the Bastion has been restored to its former glory and now offers guests an unforgettable experience. The hotel has 23 rooms and suites, which are all decorated in keeping with the original architecture of the building.
Sea Organ, a musical instrument that uses sea waves to make sound, and Greeting to the Sun are within a short walk from Bastion hotel.
The hotel's restaurant serves traditional Croatian dishes and also has a large terrace overlooking the sea. The average price for a room at this hotel is about 300 EUR per night.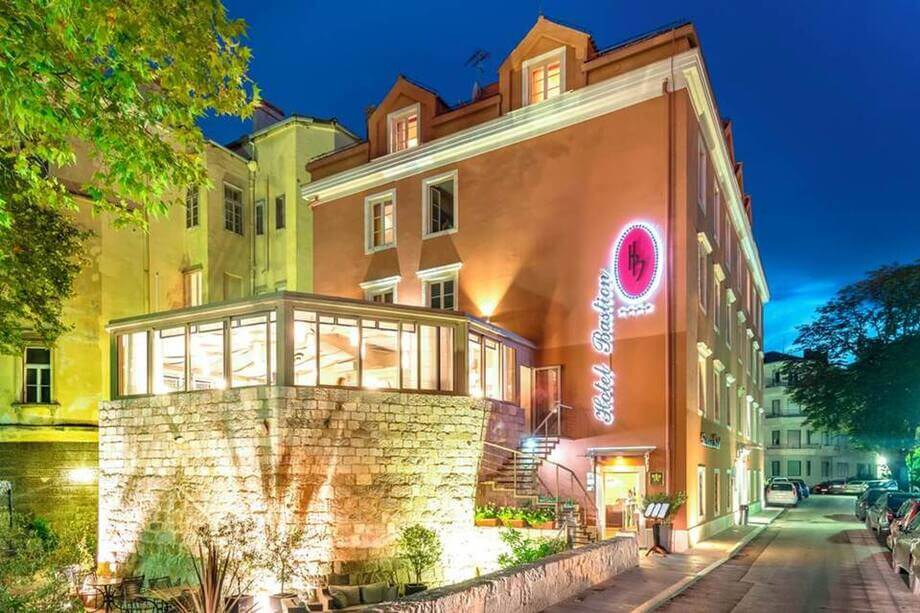 Teatro Verdi Boutique Hotel in Zadar is a new hotel built on the foundations of the old City Theatre, which dates back to 1866. The location of the hotel couldn't be better – it's right in the city center, just a few minutes' walk from all major sightseeing attractions and historical monuments.
The design of the hotel is modern with a touch of luxury. The building itself is an architectural masterpiece and one of the most beautiful buildings in Zadar.
They offer stylish rooms, each individually designed and furnished. Each room has its own unique style, so you can choose your favorite one, or stay in different ones every time you visit them.
The onsite restaurant serves delicious local and international cuisine for breakfast, lunch, and dinner. You can also enjoy a drink at our bar!
Teatro Verdi Boutique Hotel in Zadar has an average price per room of 200€, which is a great deal compared to the average city hotel in Zadar, which is 313€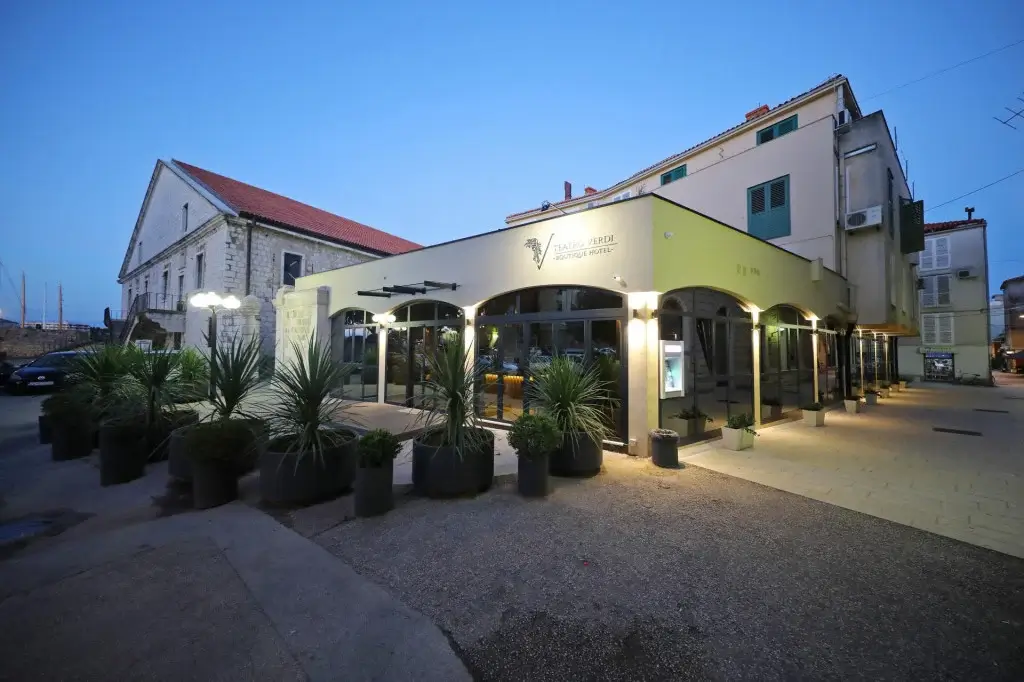 Almayer Art & Heritage Hotel and Dépendance
The Almayer Art & Heritage Hotel and Dépendance in Zadar is located in the heart of the Old Town, just steps away from everything you'd ever want to visit in Zadar.
The hotel opened in 2017 and offers luxury accommodation in a prime location with very friendly staff. It's a member of Small Luxury Hotels of the World, so you know what to expect.
Almayer Art and Heritage Hotel offer stylish accommodation with modern design and free Wi-Fi throughout.
The hotel features a wellness area that includes a sauna, massages, and a steam bath. Guests can also use the fitness center or relax on the rooftop terrace offering magnificent views of Zadar's coastline.
All rooms and suites are air-conditioned and feature elegant décor, wooden furnishings, and floor-to-ceiling windows.
Guests can enjoy a rich buffet breakfast every morning at Almayer Art and Heritage Hotel. There is also a bar and a restaurant serving local specialties prepared using fresh ingredients from the Dalmatian region.
The Almayer Art Gallery shows contemporary Croatian artists' works. The hotel also organizes culinary events, wine tastings, and art exhibitions for its guests.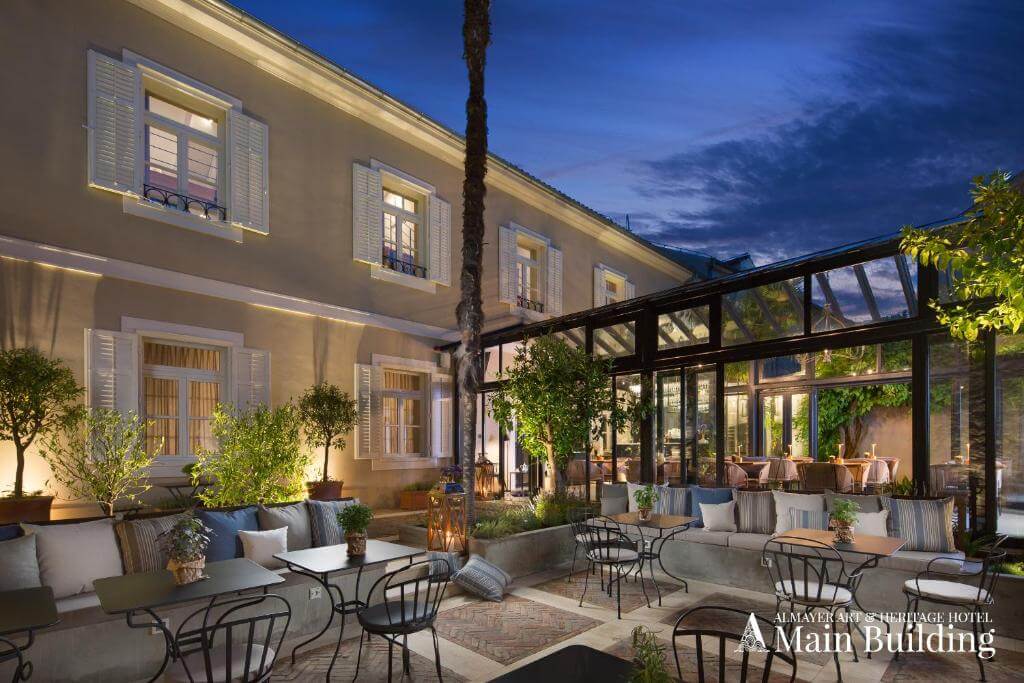 Summary- What is the best hotel to stay in Zadar?
We can summarize this short blog post by saying you can't go wrong with any of these three hotels we mentioned. They are all high-end, four or five-star hotels. They all have a perfect location within the city walls. That's perfect if you are in Zadar just to see the old town. But if you want to explore beaches, small towns around and even Zadar islands you would need transportation.
Bikes are the best to go around the Zadar thanks to flat terrain. You can rent one from 9€ a day with delivery to your hotel door.
If you don't feel for cycling, e-scooters are a great solution. Zadar has docked public e-scooter which are great solutions for going from point A to point B. But a public scooter can be very expensive if you need them for a few hours. Thankfully you can rent an e-scooter for a whole day with delivery to your hotel door.